Okay, first of all, I'm on reading week! I have the whole next week off so lots of good blog posts to come!
Thanks so much for all your comments on my last post! You make me feel special!
I haven't updated my links in a long time, there's even people on my blogroll that I haven't linked yet. So this is my project for the next week. If you have commented on my blog and want to trade links let me know here! Even if we've never talked before, let's share links! I'm always pleasantly surprised when I discover amazing blogs I've never heard of before.
And now for your blog reading pleasure
...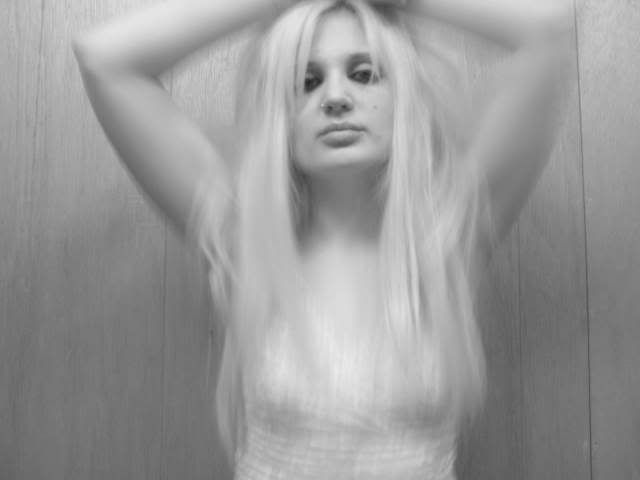 Tagged by
Frances
!
I know you've been dying to learn more about me...
Describe your personal style:
I always have to 'stand out' in some way. I think this stems from my junior high years when I used to dress in OUTRAGEOUS punk/goth garb. I think you can still see this slight punk influence in my look today, it will always be with me!
What are the staples in your wardrobe?
black leggings
blue jeans
black jeans
white tee
cardigan
leather jacket
scarves
booties
What's your signature look?
It has always been skin tight tapered pants...since the age of 14. I used to get made fun of for this, but now...I guess it doesn't appear to be a signature look anymore. Just recently it has become THE BLAZER. And a neutral color palette. Regardless, I always try to exude a 'theme' or evoke an era with my outfits. I never like to be trapped inside one look. I like to give off an under-stated sex kitten vibe whenever possible...
What inspires you?
Fearlessness. Street style more than anything. When I see someone work a basic piece in a whole new way.
Who is your fashion muse?
Those effortlessly chic, haggard but still gorgeous naturally beautiful party girls.
Favorite purchase of all time:
I have a bad habit of buying cheap things, wearing them exclusively for a couple weeks, and then never wearing them again. Right now, my AA disco pants and my H&M moto jacket!
Biggest splurge?
I bought a Betsey Johnson dress for my graduation, I've worn it a few times after as well, so not bad.
What's your beauty routine?
I can't be bothered...anytime I've tried to get into a regular leg shaving nail polishing lotioning foot sloughing brow plucking face mask routine, I'm like, this is so futile!
What jewellery do you never take off?
I rarely wear jewelery! For a while I always had on my nameplate necklace, but I find jewelery annoying and constrictive...does my nose ring count?
What are you wishing for?
The power to overcome myself and pursue my dreams. I am my own worst enemy.
What are your obsessions?
I'm obsessed with music and thrifting adventures.
I am constantly obsessively analyzing everything, and I mean EVERYTHING. And like, 4 things at once. I am so in my head all the time. This is more of a compulsion...